NEWS
Congestion at Yantian Port Threatens Sailing Schedules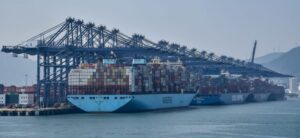 Severe congestion has resurfaced at Hutchison's Yantian International Container Terminal (YICT) in Shenzhen, prompting the port to stop accepting laden export containers last night. Imports and empty container movements will carry on as normal, with laden exports expected to resume on Friday, May 28. However, YICT said only laden containers within four days of a vessel's estimated time of arrival would be accepted, until June 3.
Unfortunately, now many shipments are facing extra transport costs ranging from $500-$1,000 to handle and reroute. Additionally, the LCL terminals are affected too, as the congestion has impacted the ability to get the containers to load to and from the yard.
The port is no stranger to heavy congestion, having suffered major truck queues just prior to Chinese New Year. YICT is a major export gateway in South China, handling 13.35m TEU last year, up 2.1%.
Worldwide, space continues to be in short supply. The slow turnaround of vessels at destination ports is the main culprit creating issues with shipping schedules. This is resulting in more blank sailings at a time when the global supply chain needs more sailings, not fewer. See Mallory Alexander's blank sailing tracker here.
Source: The Loadstar
Major US Ports Status Update
Below is a general overview of the operations Mallory Alexander has been able to gather for most major ports. This list will be updated as information is made available.
Port of Seattle and Tacoma – On Sunday, May 23rd four ZPMC Super-Post Panamax Cranes departed Shanghai heading east to the Northwest Seaport Alliance's (NWSA) Terminal 5 in the Seattle Harbor. The cranes have an approximate 30-day voyage before settling in their new home at Terminal 5. Standing 316 feet tall with a 240-foot outreach boom, these cranes will be among the largest on the West Coast and able to handle the biggest container vessels operating in the world, once Terminal 5 is completed early next year. The Port of Seattle is seeing vessel wait times of 4 days, and Yard Utilization is at 120% of capacity – which is the maximum. All terminals are open for normal operations this week.
Ports of Los Angeles/Long Beach – Terminal operators at the ports of Los Angeles and Long Beach are concerned that increasing rail container dwell times at their facilities will severely compromise their ability to handle import volumes during what promises to be a peak season that arrives four to five weeks early this summer. Rail container dwell times in April averaged 11.2 days, up from 10.5 days in March and the highest level of the year. This is congesting terminals and slowing down cargo movement. Delays for port cargo or for cargo to be moved inland by rail have been excessive – railcar turn times average 10 days currently. Currently the Port of Los Angeles is experiencing Yard Utilization at 85% and Vessel Wait Times of 6 – 8 days. Meanwhile, the Port of Long Beach is seeing Yard Utilization at 67%, Vessel Wait Times of 6 – 15 days, and chassis availability is tight. All terminals are open for normal operations this week.
Port of Oakland – A coalition including the Port of Oakland wants California to spend $2.25 billion on emissions-free freight hauling. Supply chain and environmental groups sent their request to Sacramento this month, seeking surplus state revenue to finance: Zero-emission trucks and cargo handling equipment; Infrastructure such as electric charging stations, and; Training to operate and maintain the equipment. Vessels port stays continue to increase in all terminals in the harbor due to the increase in import volumes. Terminals are limited to 2 gangs per vessels on most shifts due to the unavailability on of the needed labor to cover the current demand. The other setback is that shipping is only allowed to work 1 vessel at a time at SSA Terminal. Vessel wait times are 15 – 20 days. All terminals are open for normal operations this week.
Port of Houston – Currently there are no vessel wait times. The Port is seeing yard congestion due to rollings, but there is limited impact to operations. All terminals are open for normal operations this week.
Port of New York/New Jersey – The Port of New York and New Jersey welcomed the CMA CGM Marco Polo to APM Terminals at the Elizabeth Port Authority Marine Terminal on Thursday, May 20. The arrival set a new record for the largest ship to call on the Port of New York and New Jersey. The CMA CGM Marco Polo is the largest vessel to call upon any U.S. East Coast port to date and will continue to break records as it sails south to call on other U.S. ports. All terminals are open for normal operations this week.
Port of Virginia – Effective immediately, for the remaining Saturday gates through June 5, please be advised that prior day reservations are REQUIRED to utilize the Saturday gates. Same day reservations will not be supported on Saturdays, but are still permitted Monday – Friday. This requirement is designed to ensure the most efficient service levels for drivers conducting Saturday transactions. Norfolk International Terminals (NIT) are seeing vessel wait times of 0 – 2 days. All terminals are open for normal operations this week.
North Carolina Ports – All terminals are open for normal operations this week.
South Carolina Ports – SC Ports will also welcome the largest container ship to ever call the East Coast — the CMA CGM MARCO POLO. SC Ports has invested $2 billion in infrastructure in recent years, including enhancements to Wando Welch Terminal, to handle bigger ships and more cargo. Ship-to-shore cranes with 155 feet of lift height above the wharf deck stand ready to work the CMA CGM MARCO POLO at Wando Welch Terminal. Charleston is currently seeing Yard Utilization at 86% due to 3 extra vessel calls last week. Truck power continues to be tighter due to increased volume. CSX and NS ramps remain congested due to volume outpacing SC Ports trucking capabilities for the rapid gate program. CSX has opened inland gates to receive containers with a destination of Charleston. All terminals are open for normal operations this week.
GA Ports – At this time, the Port of Savannah is experiencing delays of 1 – 2 days. Truck capacity remains tight. All terminals are open for normal operations this week.
Please note that Mallory Alexander's Domestic Trucking department is seeing a severe shortage of chassis at Memphis ramps this week. We are working with clients to mitigate the equipment issue, but shortages are anticipated through this Friday.
No Break from High Truckload Spot Rates for US Shippers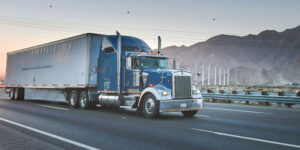 US spot market truckload capacity slackened last week, one of the few times more capacity has become available to US shippers since last June. However, that's not a sign the overheated US freight market is by any means cooling.
Truckload spot rates in the US have hit new highs in May as continued strong freight demand, coupled with market disruption, pushes up pricing in the South and Southwest. Read the full report at JOC.
US Exporters Continue to Encounter Rough Sailing in 2021
The consolidation of ocean carriers into a smaller number of alliances has been accompanied by downsizing and automation in which carriers "mimic each other" in emphasizing imports over exports and with the unintended effect of "devaluing" U.S exporters.
This consolidation is causing international trade to favor imports over exports to the United States and is creating long-term obstacles for U.S. exporters.
Containership Off Sri-Lanka Catches Fire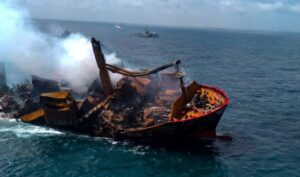 Sri Lankan authorities are trying to control a massive fire aboard a container ship near Colombo's coast to avoid a chemical and oil spill.
The fire aboard the Singapore-flagged containership X-Press Pearl intensified overnight, prompting the decision to evacuate the ship as firefighters struggled with worsening weather conditions. Sri Lankan officials are now preparing for an environmental incident as the vessel has lost containers overboard, taken on a list, and the fire continues out of control. See video footage of the ship fire here.
The vessel was completing a voyage from Qatar and the UAE with stops in India and Sri Lanka before her scheduled arrival in Singapore.