NEWS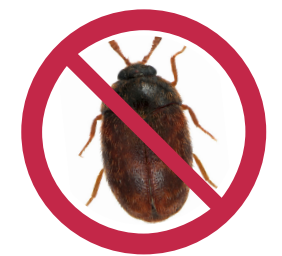 Recent information provided by the Australian Government Department of Agriculture, advises there has been a large number of Khapra Beetle detections within the last month. There is a high level of confidence that most of the infestations originated from the container (under floor) rather than the commodity, however, some of the detections originated from non Khapra Beetle countries such as China and Papua New Guinea and it is suspected that the detected Khapra Beetles may have been living in the container for upwards of 3 years. This is a cause for concern as it appears the Khapra Beetle is moving undetected on containers internationally and therefore posing a risk to Australia, should an infested container arrive at an Australian Port and spread from there.
Rocke Brothers has a Quality Awareness program in place for Khapra Beetle and has already rolled out detection and action training at all of our sites, in line with Department of Agriculture advice and guidelines.
The Department of Agriculture is implementing a number of urgent actions in a phased approach, with a focus on offshore risk mitigation to reduce the spread and minimise the risk of the Khapra Beetle arriving in Australia. Revised phytosanitary certification and new offshore treatment requirements, including Methyl Bromide Fumigation and heat Treatment, will be introduced by the end of this month.
What you should know
Khapra beetle is Australia's number two National Priority Plant Pest and the number one plant priority pest for grains. It is not present in Australia, but it is a highly invasive pest that poses a major threat to Australia's grains industry. Khapra beetle destroys grain quality making it unfit for human or animal consumption.
The global spread of khapra beetle is increasing and it is being detected on a wide range of plant products and as a hitchhiker pest in shipping containers. If khapra beetle enters Australia it would have significant economic consequences.
What you should do
If you are an importer, it is critical that you communicate the suspected Khapra Beetle spike with your suppliers and ensure they stay vigilant and are aware of the updated Department of Agriculture Biosecurity Import Conditions. By working with suppliers, we can eliminate the risk at the source and avoid a site shut down and additional costs, should Khapra Beetle be detected.